"Whatchya writing about?", says my husband as he shaves his face over the sink while sitting next to me on our bed. There are no distinguished spaces here. It is one room containing all the aspects of a home… except for no laundry machine or any sort of closet. I tell him, "the flooding". He says, "whoa, that's a biggins." "I know; where do I start?", I say, "at ten feet, twelve feet, eighteen feet?" Michael says, "Start at the bottom of the river."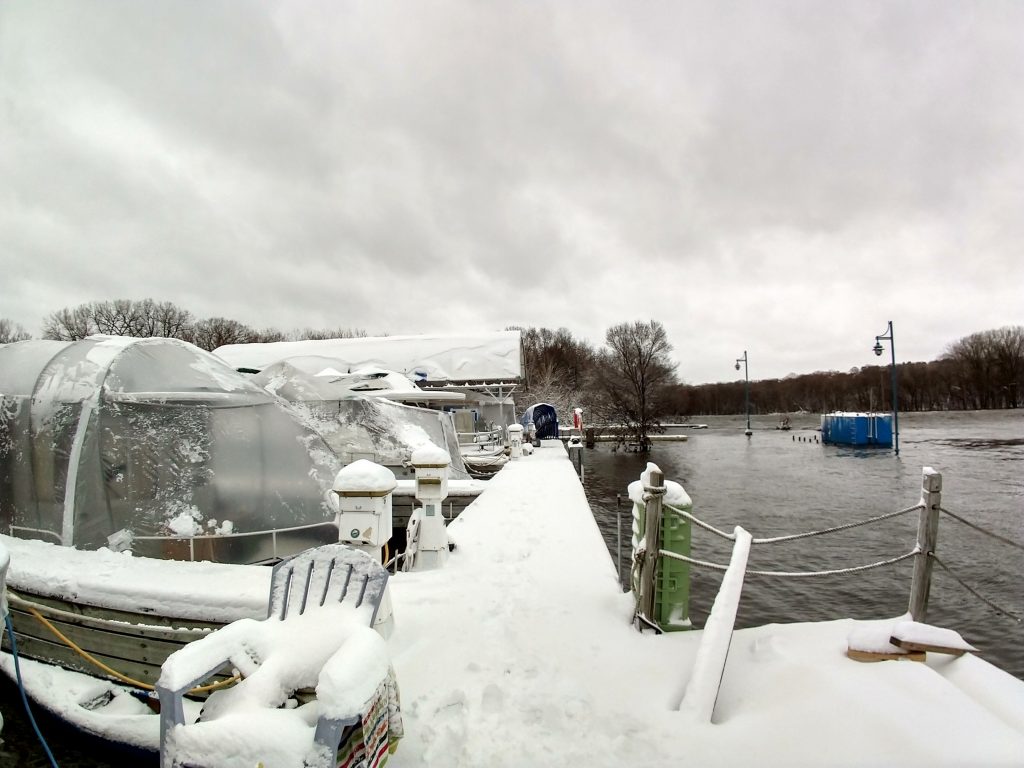 I still didn't know where to start so here we are. I began by giving you the visual of Michael inches away from me at 1:12 am while I sit cozy in bed tip-tapping away on the keyboard. We have three candles lit because our power is out. It's been out for 22 days now. We're borrowing Neighbor Mike's generator because ours fell in the river last night at 4am. I know it was 4am because I wake every time the generator turns off. I've turned in to one of those people that has to sleep to the sound of a fan, except in my case: a generator. The whole dock hums of them at night. I met a neighbor for dinner on the dock yesterday and we yelled across the table to hear each other over the loud drone- it was lovely. Anyway, here we are. We're off grid. Our generator is in pieces to "dry out" on our boat's floor. There is six inches of snow on our dock. We have to kayak to and from our boat to traverse the flood waters. And Michael shaves his face at 1am while I try to process these last few weeks of Minnesota madness.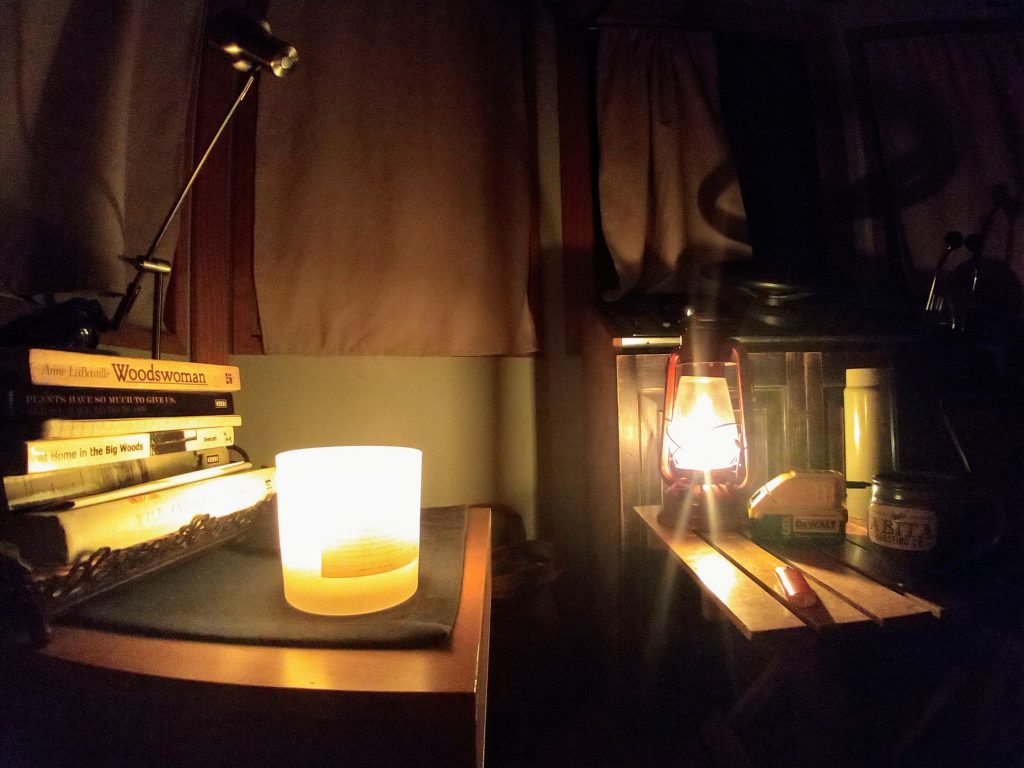 Spring isn't always like this. We usually don't get flooded out of our parking lot. Our power has never been turned off. We've never received an email from the city to evacuate our floating homes due to major flood levels… how strange that none of us checked our email that month.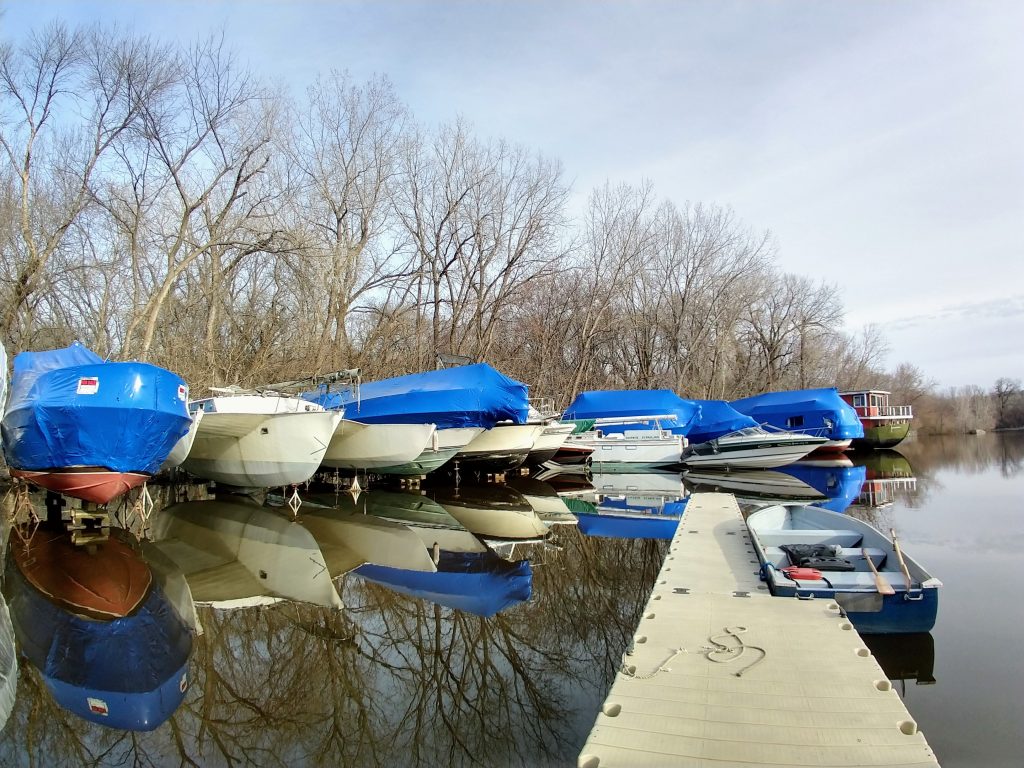 One month ago, the marina started buzzing with the information that this would be a year of historic flood levels. Would it be something like 2014- a river crest of 20.13 feet? Many neighbors were familiar with this year and smiled as they shared stories from it. It was one year before Michael and I made the marina our home. Could it be something akin to 1965, the highest waters here in recorded history? The river crested at 26.01 feet then.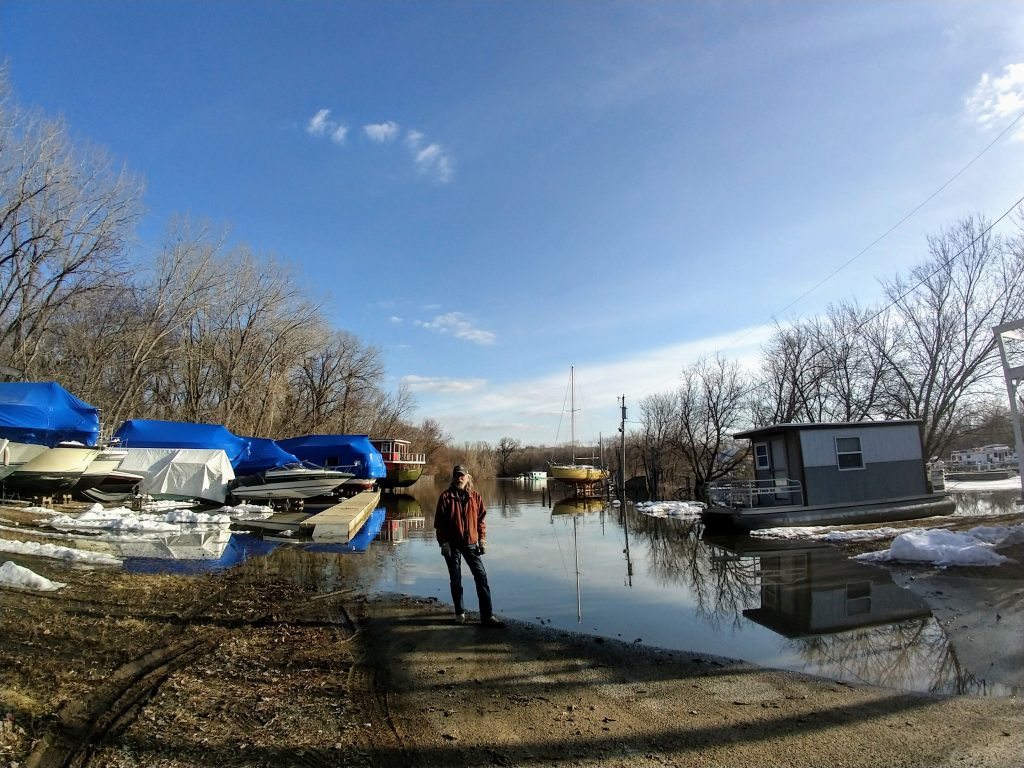 I'll quickly brief you on the river levels. The river depth here in Saint Paul, MN is about 9 feet deep. There's a ton of history on how the 9 foot navigable channel was established. The Upper Mississippi River was not always navigable, not even close, but humans have knack for manipulating nature to suit our wants. I read a book recently that brilliantly goes through the history of our local river: the good, the bad, and the ugly. I highly recommend it: "The River We Have Wrought" by John O. Anfinson. Anyway, back to river levels. The action stage is 10 feet, the flood stage is 14 feet, the moderate flood stage is 15 feet, and the major flood stage is 17 feet.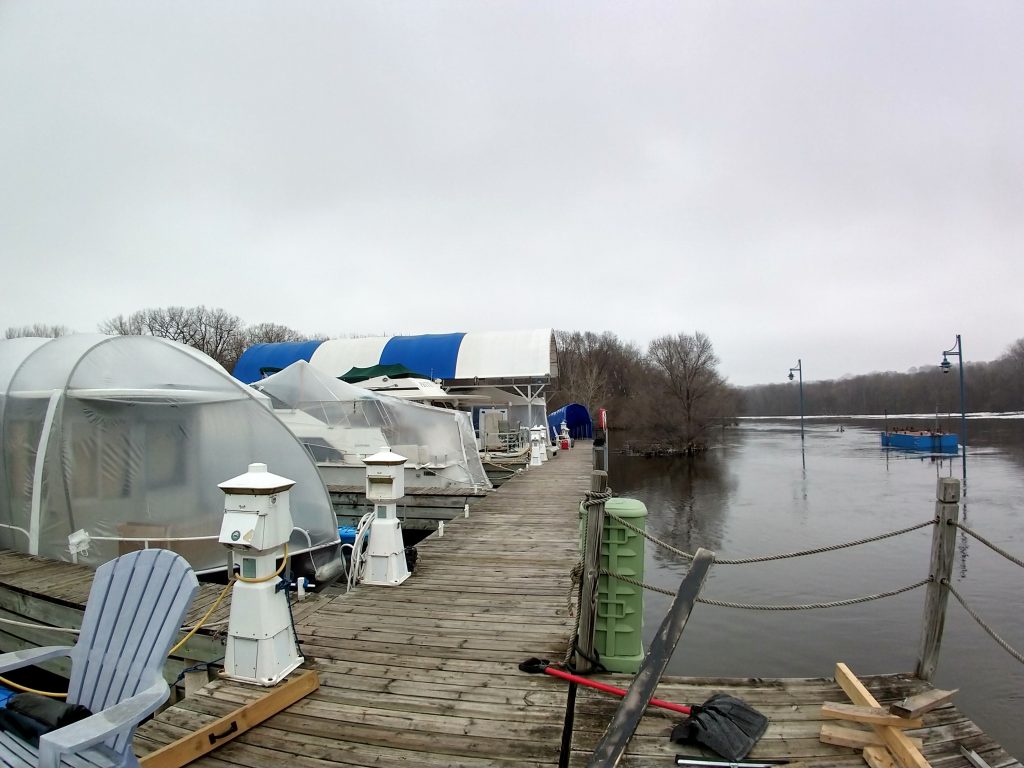 In the week leading up to the river's rise, the harbor's waters remained frozen, and the summer's boats lined the parking lot just waiting for the spring thaw and eventual release to their dock slips. This year, this transition from dry dock to water would not happen naturally or smoothly. It would require a 65 foot barge pushed by a tug to break up the frozen ice. It would require volunteers to chip away at snow and ice surrounding the stands that held the seasonal boats on land. It would require hundreds of different maneuvers to get the seaworthy boats (boats that can float) in water and the not so seaworthy ones on high ground. The parking lot was going to flood, maybe six feet high. This meant that all the boats safely stored on the lot for winter would not be so safe anymore; they would be floating away… and fast.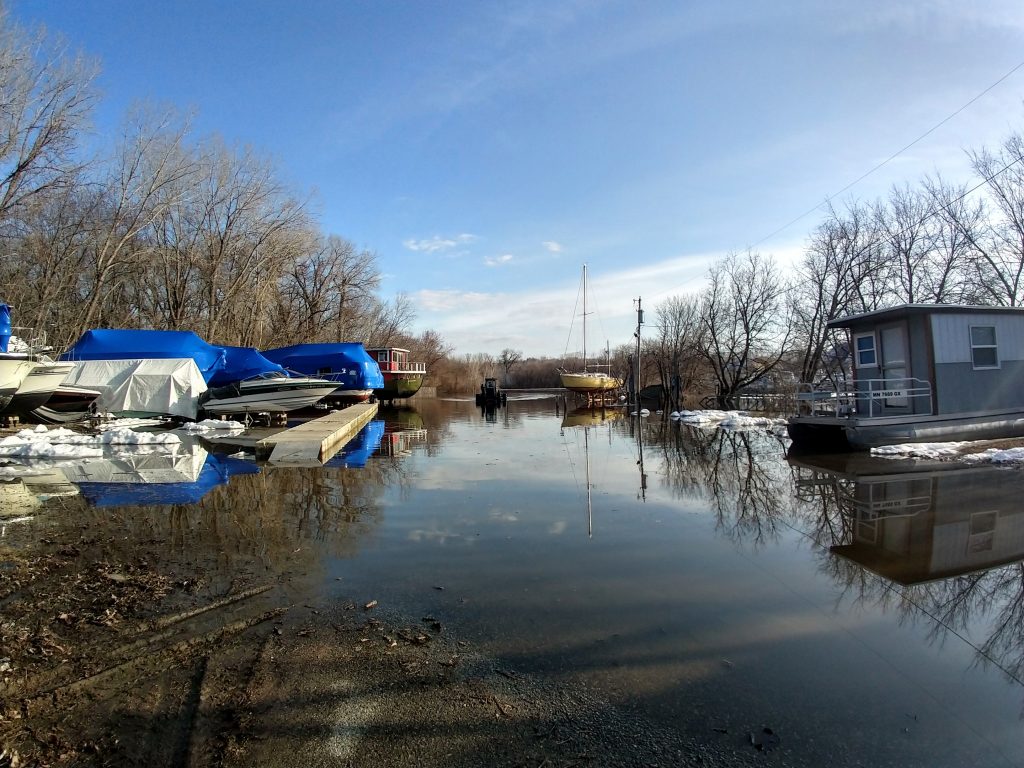 This year's flooding was already different from that of 2014. In 2014, the flooding happened in June- a rather pleasant time of the year to hassle with extra water. Now, it's March; it's cold and everything's frozen. We are understanding these things: we'll soon be off grid as the power will be turned off before the water reaches the breaker box, we'll be kayaking to and from our boat as the parking lot is sure to flood significantly, and if all the boats on shore can't get in the now frozen harbor, they will float away, sink, or surely be damaged. I'm not sure we'll be telling stories of this flood with a smile on our faces.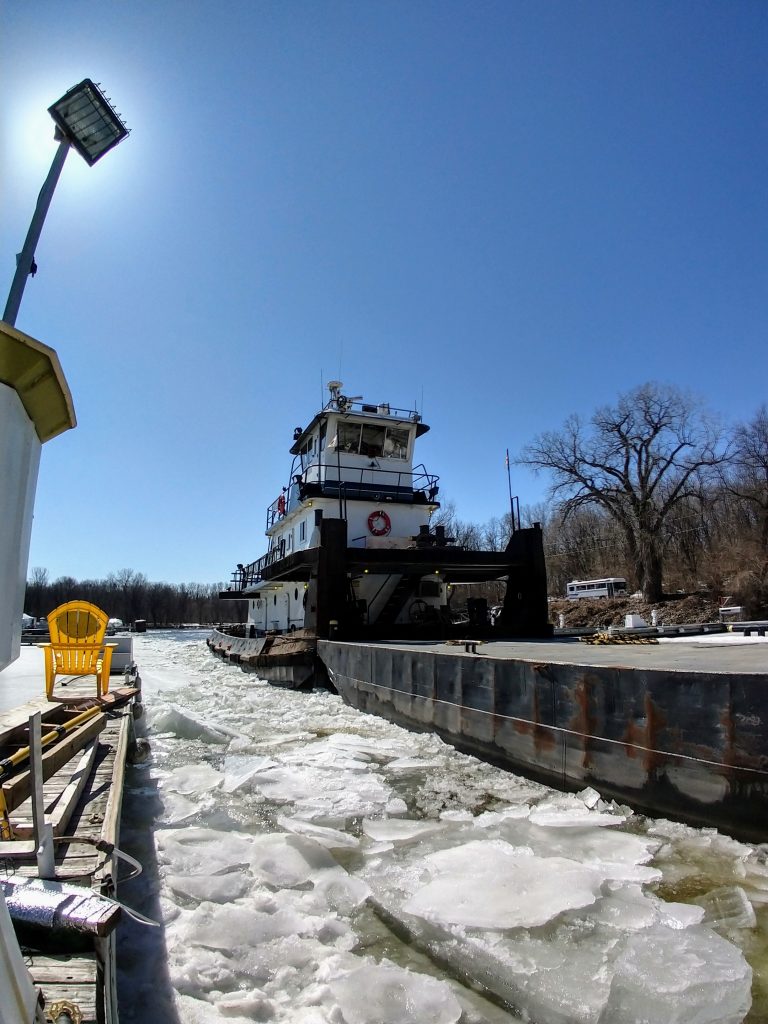 Letters were written to the city officials, and the marina acted quickly and with minimal rest. They got that barge to come in and break up the marina's main channel. Volunteers came forward in impressive numbers to break up the ice within the dock slips and where the barge could not reach. The marina employees worked tirelessly to slip in 48 boats in a span of three days. The boats would be safe.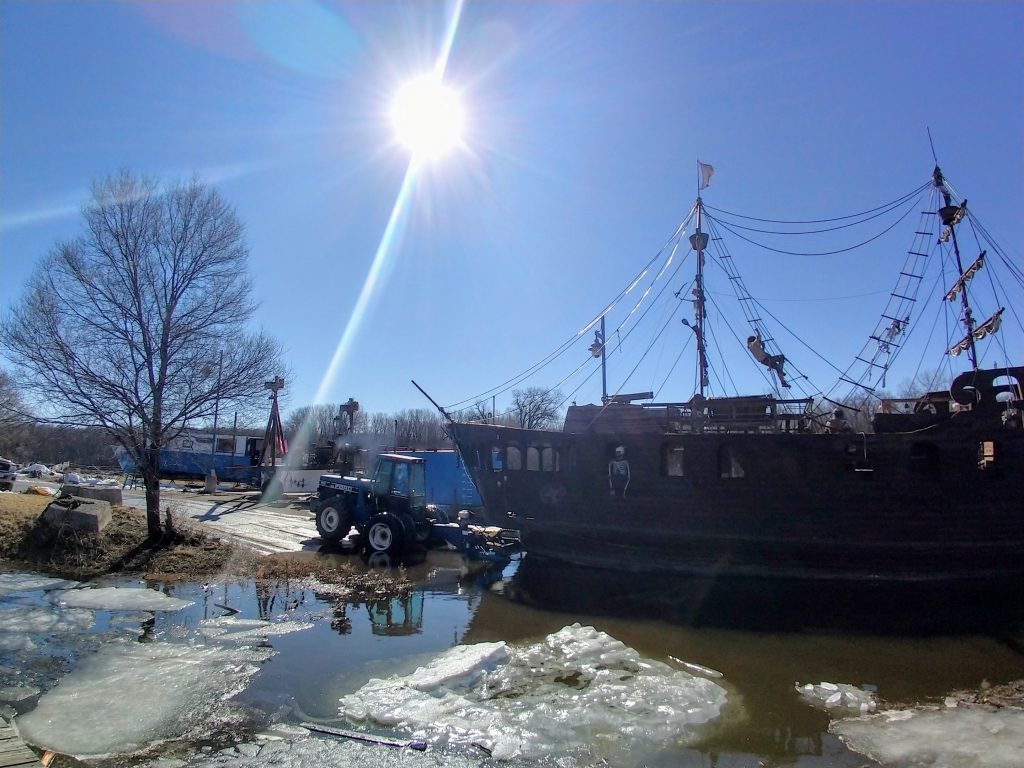 The water rose quickly, and when we arrived from a weekend away, the liveaboards were in full flood mode. A dinghy dock was established, Neighbor Sam purchased a new motor for his dinghy while Neighbor Mike purchased a new generator, Neighbor Roger lended me his neighbor kayak for the flood season, Neighbor Sam gifted us gimbaled oil lamps for the weeks of power outage to come, and Mystery Neighbor delivered my rain boots directly to Neighbor Girl's door. As evidenced over and over again, lots of looking out for each other seems to happen here when conditions aren't fabulous.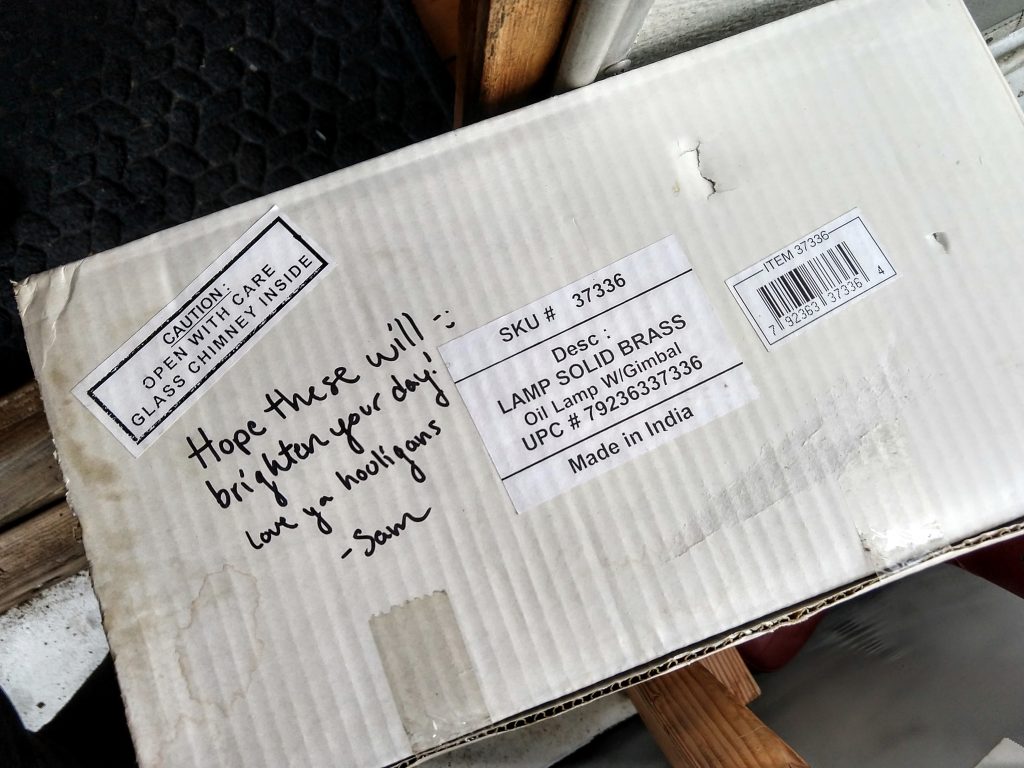 Weeks have come and gone now- more than three of them. We are still off grid. Roger's still letting me use his kayak. We're getting our day time warmth from the sun (if it's out that day) and our night-time warmth primarily from candles or our solo propane heater that kicks off frequently for no good reason. We gave up trying to power our fridge, so we're consuming a hardy amount of dry goods and making more frequent trips to Mickey's Diner.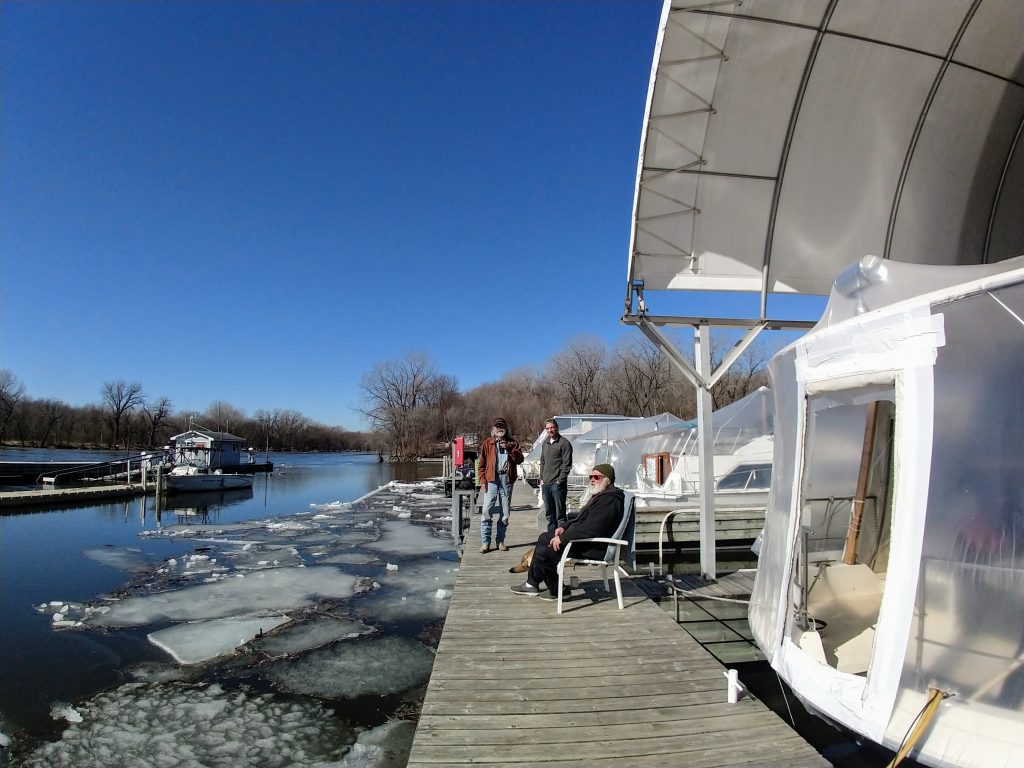 We are caught up to the present now. Just when we got settled in to this off-grid flood life, the 5th biggest April snowfall on record blasted us with nearly 10 inches. As temperatures dropped in to the twenties and the wind picked up to 20 knots sustained and 51 gusting, our generator landed in the river at 4am. Michael retrieved it, but it hasn't been able to be revived. We woke up to one cold boat being tossed back and forth by the unrelenting winds. With my winter coat on, I packed a bag with three days worth of clothes. I impulsively determined that I would find somewhere to stay until this wintery spell seceded. I stormed off the boat in my knee high rain boots in to the snow and across the flood waters. In that moment, I thought I'd be gone until summer.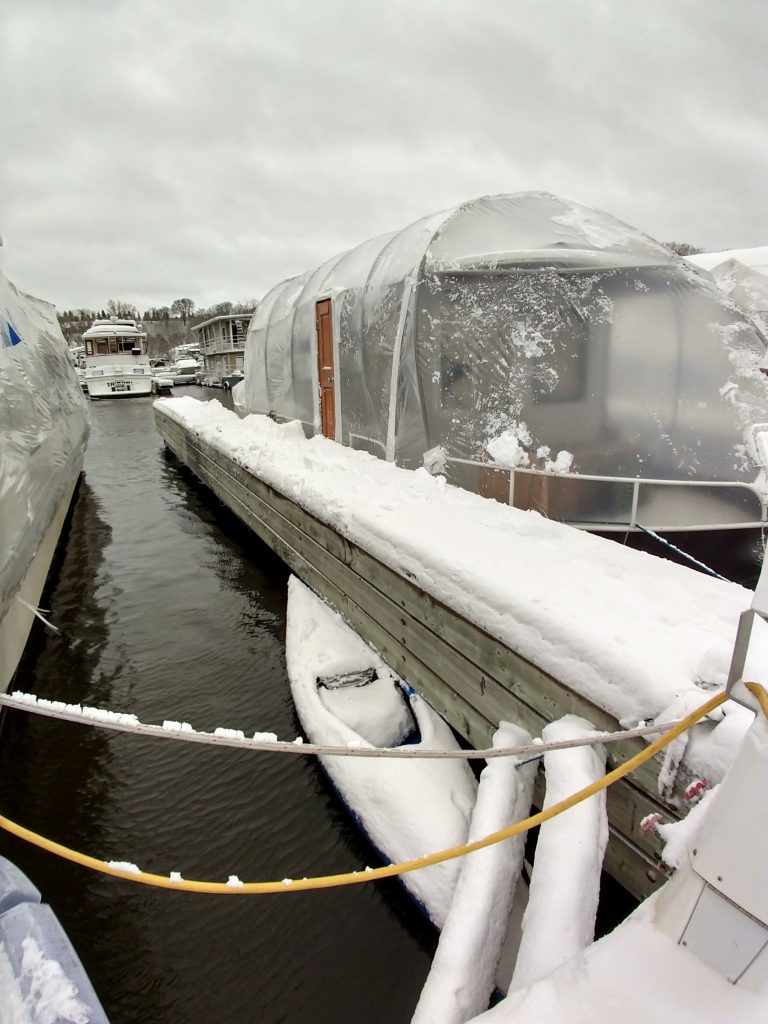 My rage did not last long. That night, I was back on the boat with my three days of belongings put away and a borrowed generator for heat. It is now 1:12 am. I'm cozy in bed, loving this boat again in all her resilience and charm. "Whatchya writing about?", he says… I write without really knowing I guess. I start with one small thing, event, person, and I wring it free of all the sensations it has to offer. I write to understand this life all over again; to feel it fully. It goes too fast otherwise. I write to share the beauty in life and the funny in it. I write to honor the very essence of living stripped from all the extras. "The flooding," I say. I'll start there. Of course, I start the story talking about him. I can't help it; it's just where I feel the most.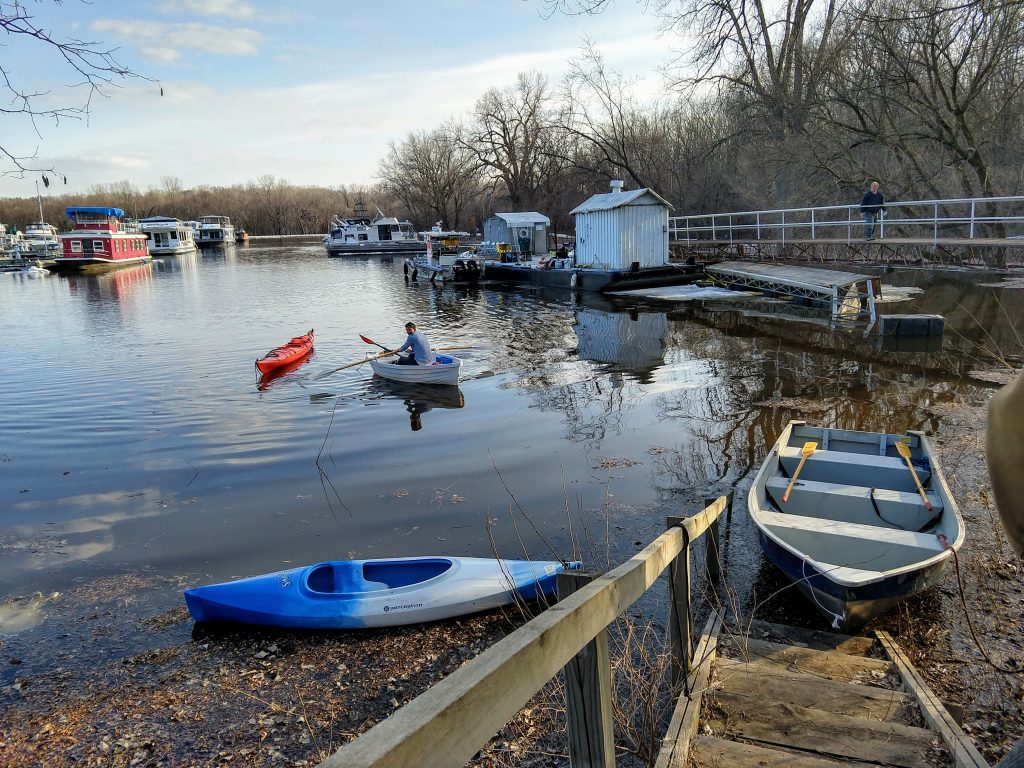 If you're wondering how we (Saint Paul, MN in the year of 2019) ended up in the historical flood contest. The river peaked at 20.19 feet. Yes, 20.19 feet in 2019; I bet you won't forget that now. It's the seventh highest in recorded history. The river was higher (and colder!) than 2014, but not as high as in 1965. What a year to have two floating homes on this mighty Mississippi.. uffda. We're not out of the woods yet, but so far, both are surviving. I wouldn't say thriving but definitely surviving; I'll take it.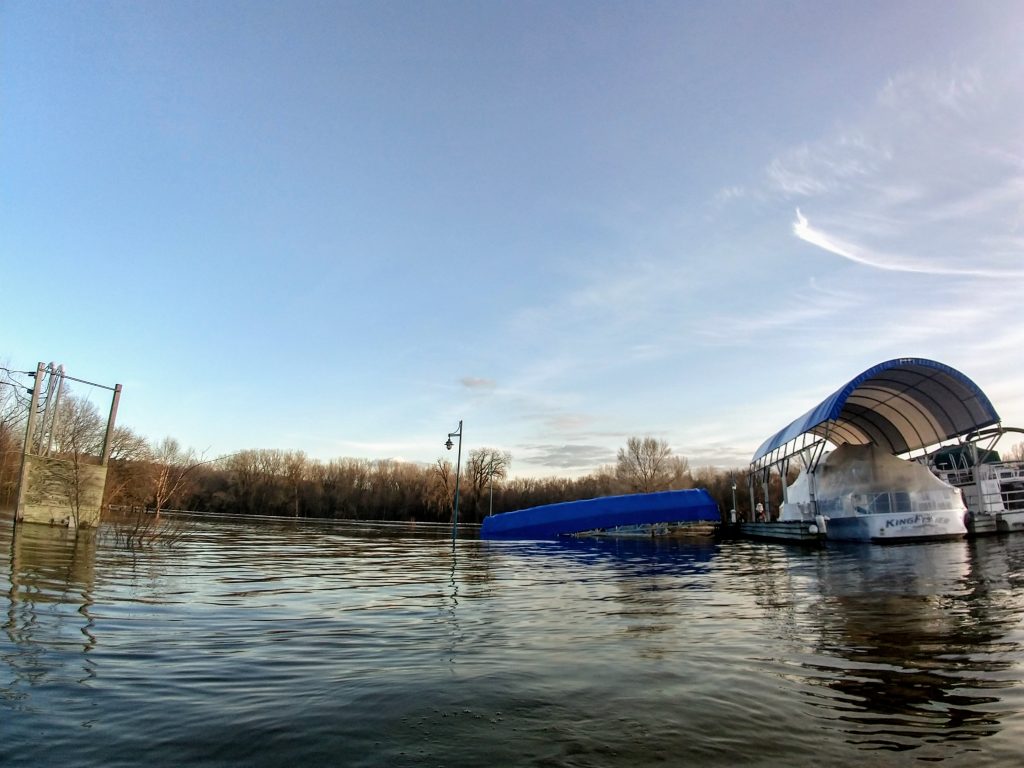 Since I started this story with Michael, I'll end with him too. I like to bring things full circle. Since Michael and I work evenings and not always the same evenings, the commute home during flood season has involved a kayak trip from dinghy dock to boat between the hours of midnight and 2am, either alone or together. At first, I though I would dread this after a tiring shift at the hospital. It morphed in to one of the favorite parts of my day (except when that April blizzard hit; screw kayaking in that mess). The water was the most calm at night. It looked like glass, and the moon shine would light our path home. On my nights alone, Michael would always text me things like, "wear your life jacket" or "paddle over the parking lot; it's more shallow there". We also debated nightly on which was the best exit point at the dock. I liked to venture straight to our dock finger where a ladder dipped in the water to meet me. Michael preferred to go up the walkway at the dock's end; it was a gradual slope up and one he insisted was less risky. The water is still icy cold, so any fall in could be dangerous.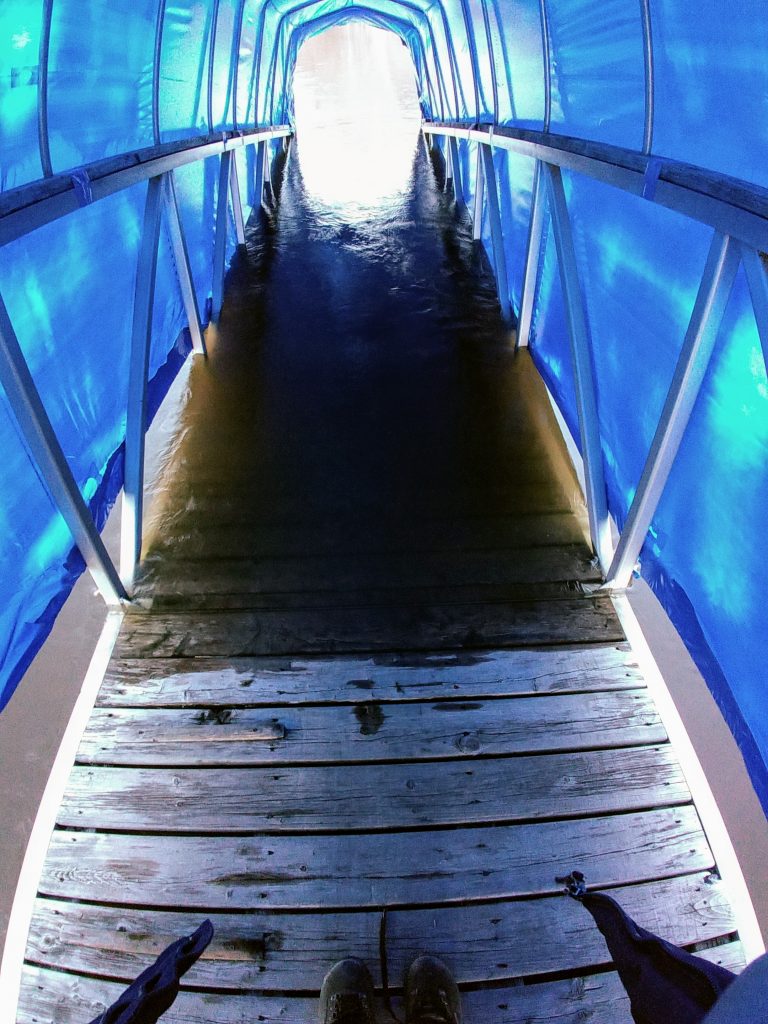 One morning, I woke up to Michael blasting through the boat's door in only his underwear. I didn't have my contacts in or glasses on, so this was just a strange, blurry vision at first. He had fallen in the water, swam to the dock, got assistance from our neighbors to fish the kayak out, and then stripped his wet clothes off and hung them outside to dry. (The clothes were later found to be frozen stiff.) I couldn't help but to laugh at him as this blurry image shared his story. "And you always tell me to be careful," I said, "how ironic." So, for the official record of Mississippi River fall-ins over four years of life aboard: you can tally Michael's at a whopping three, while I sit cockily here at zero.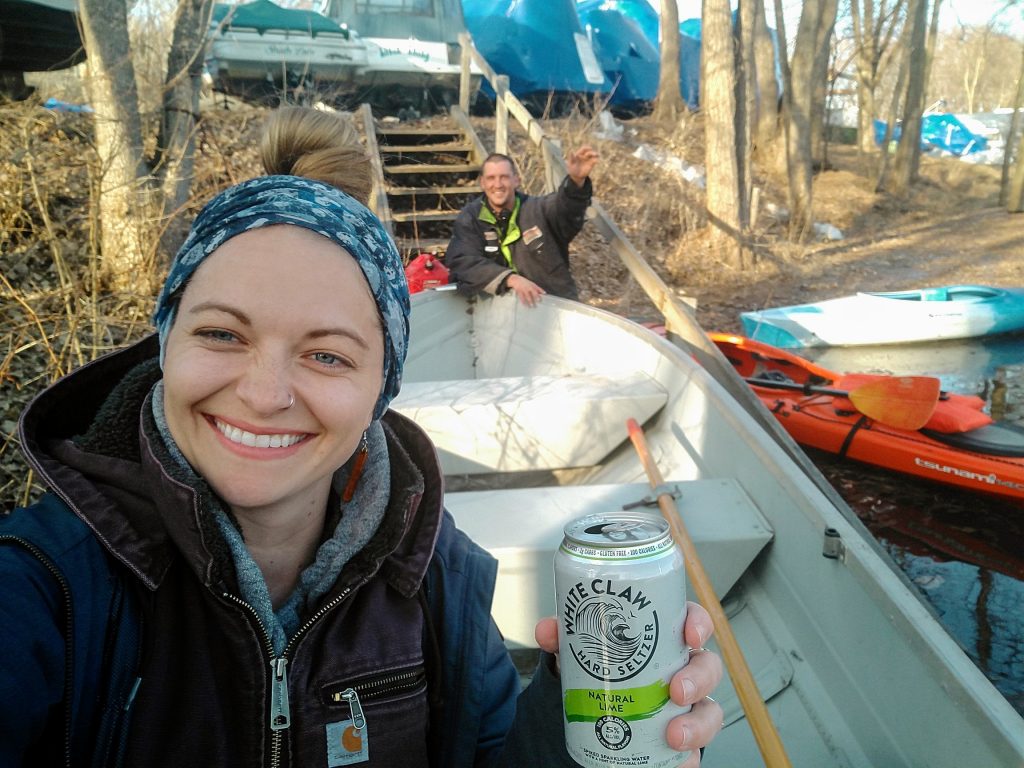 April 2019 Stats To Remember:
The 7th highest river crest with a height of 20.19 feet.
The 5th largest April snowfall in history.
An astounding jump in the river fall-in count with Chelsi securing a 0-3 lead. Booyah.