I am finding that life is far more fascinating than I ever imagined. It is not the dramatics that amuse me but the simplicities. It is one good conversation with a stranger. It is the cool breeze rolling off the river and slipping right through my open window as I fall asleep. It is a good meal with a neighbor.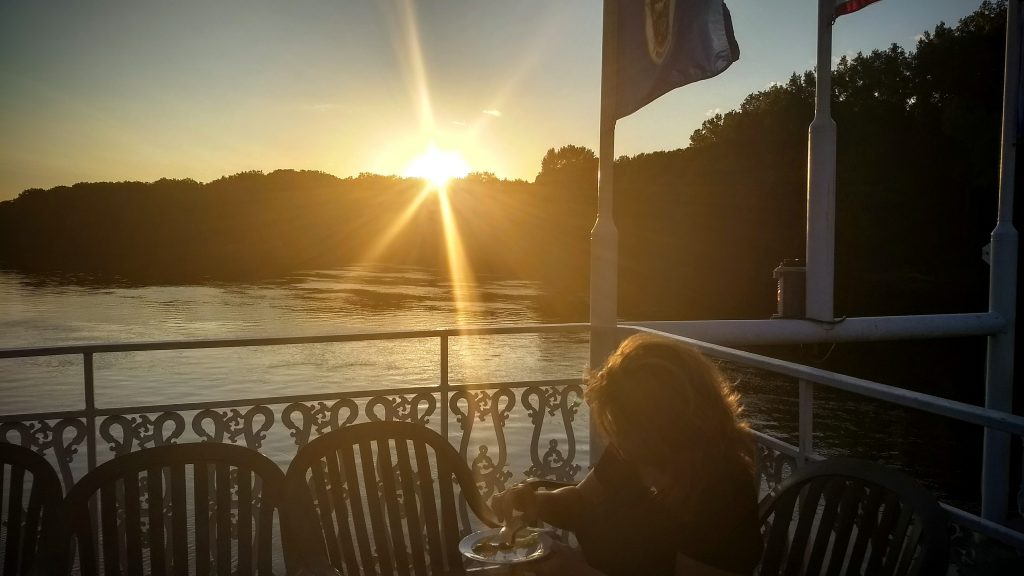 Meet Bob.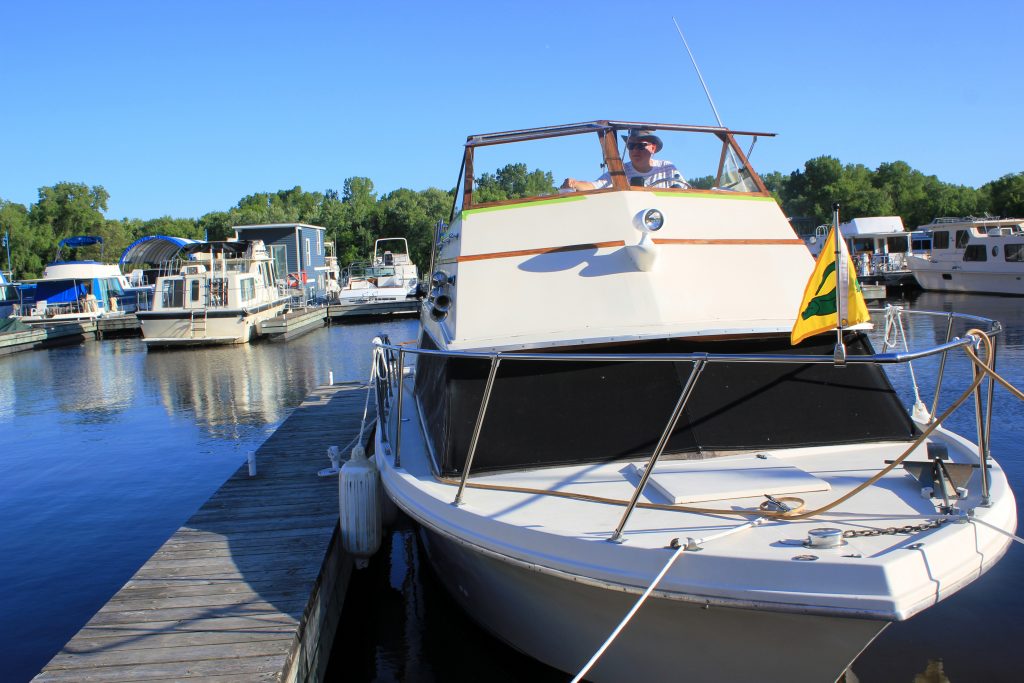 Bob and his husband Yader joined our quirky community when they docked their 1976 Carver Mariner across from ours one year ago. In this quick but full year, I hold memories of Yader and I dipping our feet in the waves with Bob at the helm; this quickly turned in to us getting soaked and laughing heartily at our fortunate misfortune. Warning: waves may be larger than they appear. I fondly recall salsa dancing with Bob on the dock on Cinco de Mayo and Yader later leading an impromptu Zumba class; looking back, dance class on the dock seems like a hilarious accident waiting to happen.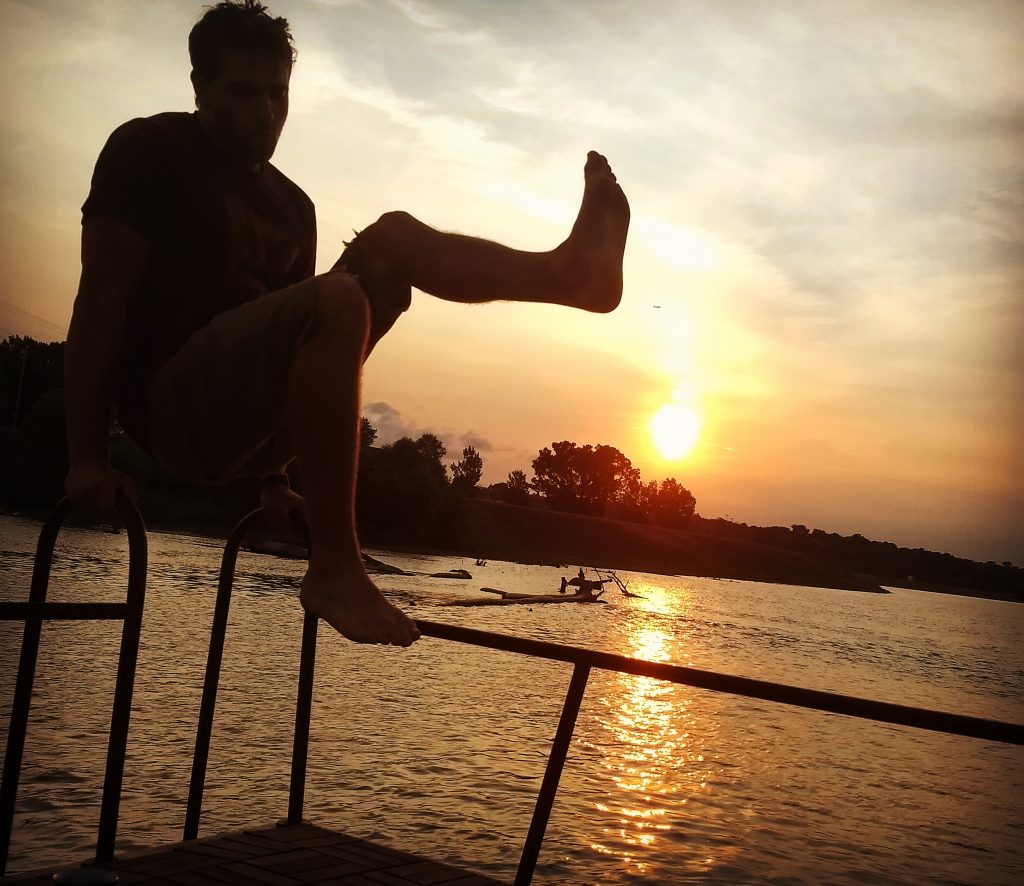 Bob loves his boat as obsessively as the rest of us, and I've observed many nights of Bob diligently working on one boat project or another. Bob's favorite form of exercise has become kayaking at dusk- a favorite and often shared activity among the whole dock; this is almost always followed by the nightly ritual of beaver, deer, and bald eagle or blue heron stories as observed whilst at paddle. Sometimes our dock is fortunate enough to hear Bob playing the fiddle as the sun slowly falls behind the trees. As evidenced by these previous paragraphs of goodness, Bob and Yader fit perfectly in to our strange little floating society.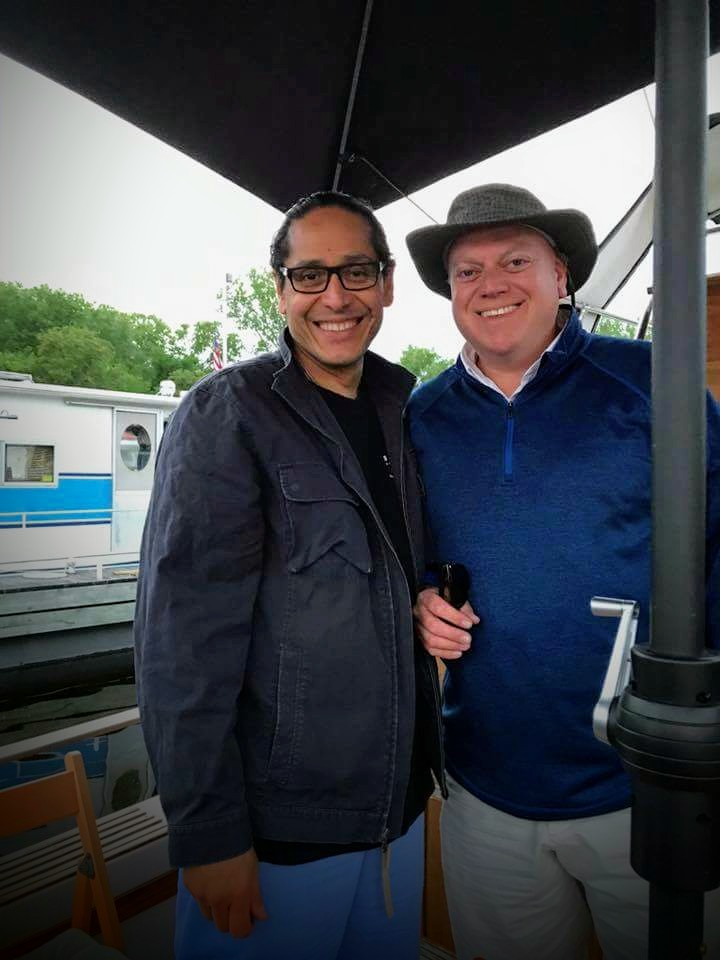 I get this question often- how do you cook on your boat? Our mainstay is the cast iron skillet. We specialize in stir fries, curries, and egg scrambles. We do not have an oven although some boats do; and for the record, no boat actually uses them. We do have a grill but rarely use it; other boat neighbors use the grill religiously. One guy uses his pizza oven for everything. Our friends on a sailboat actually have an outdoor solar oven since they anchor out at all times. My husband makes weird green smoothies comprised of kale, garlic, and beets; it tastes like someone smothered your face in the dirt. Our neighbor Sam makes a similar looking smoothie that I once mistook for the water he rinses his paintbrushes in.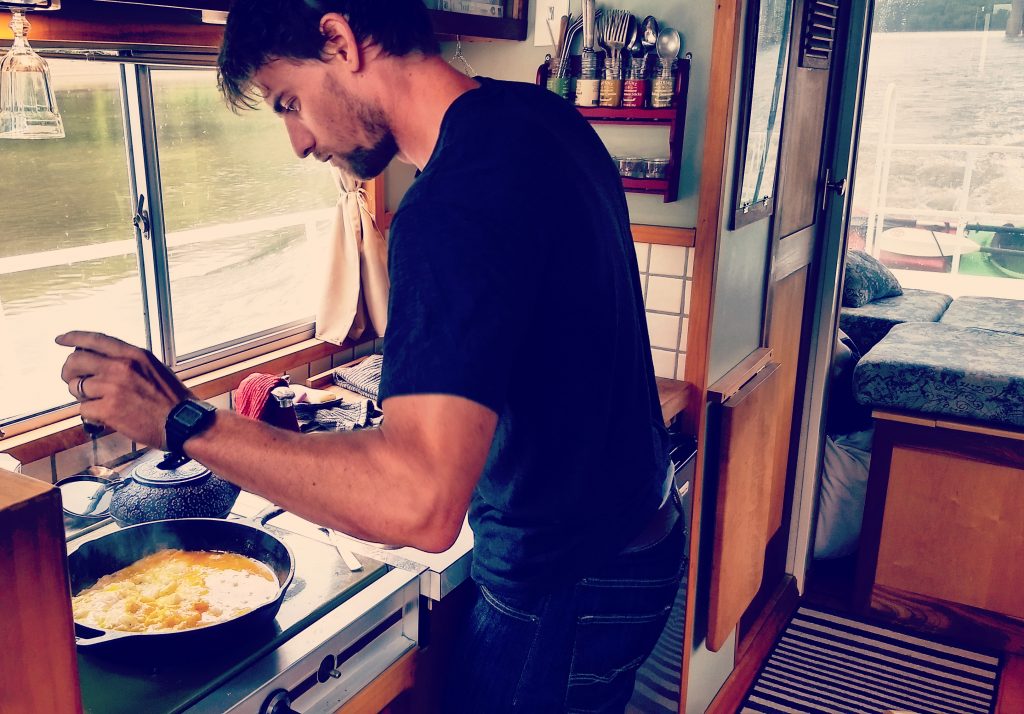 Back to Bob.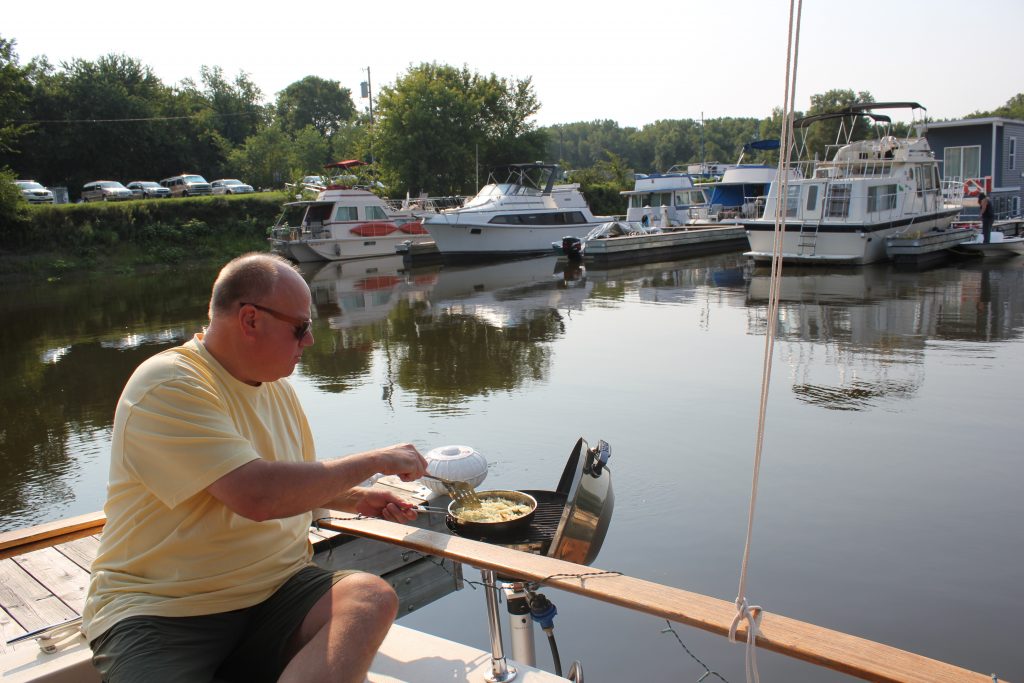 Bob is the kind of guy that warms the soul of each person he meets. He tells good stories, plays good music, and listens with an honest intent to learn about another. Bob loves people. He loves his boat, and he loves food. It's no wonder he would want to combine all his loves in one place- a cookbook for boat people.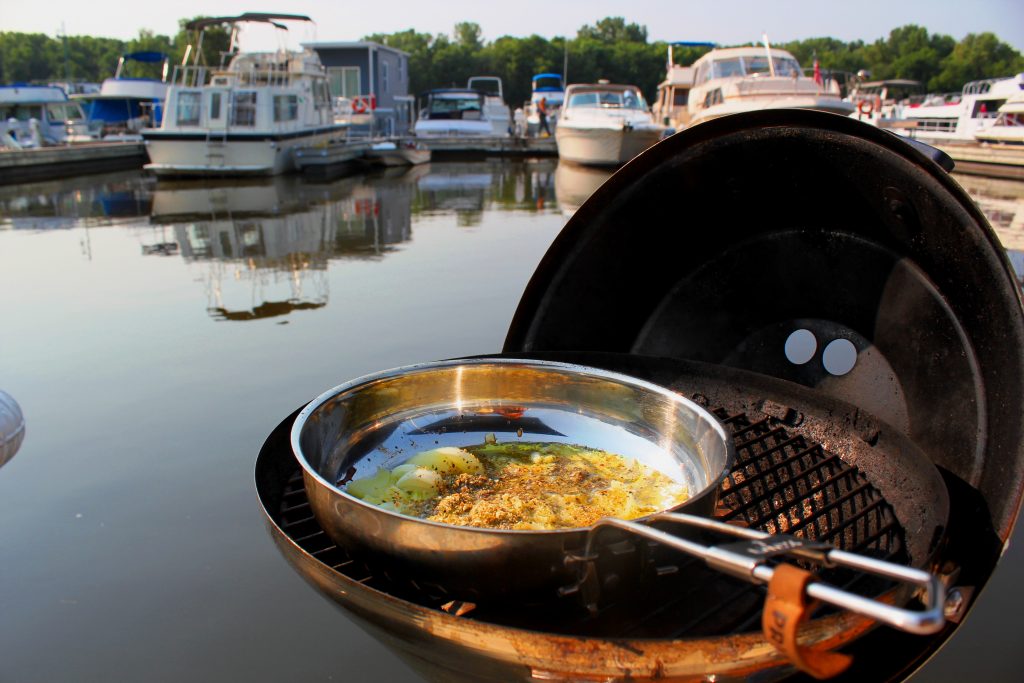 I go to Bob's boat this morning as he prepares "a basic breakfast hash with cowboy caviar". This is not the first time Bob has cooked for me. He often grabs a neighbor to share a meal with. I love this about him. He has Appalachian music playing lightly as I come aboard.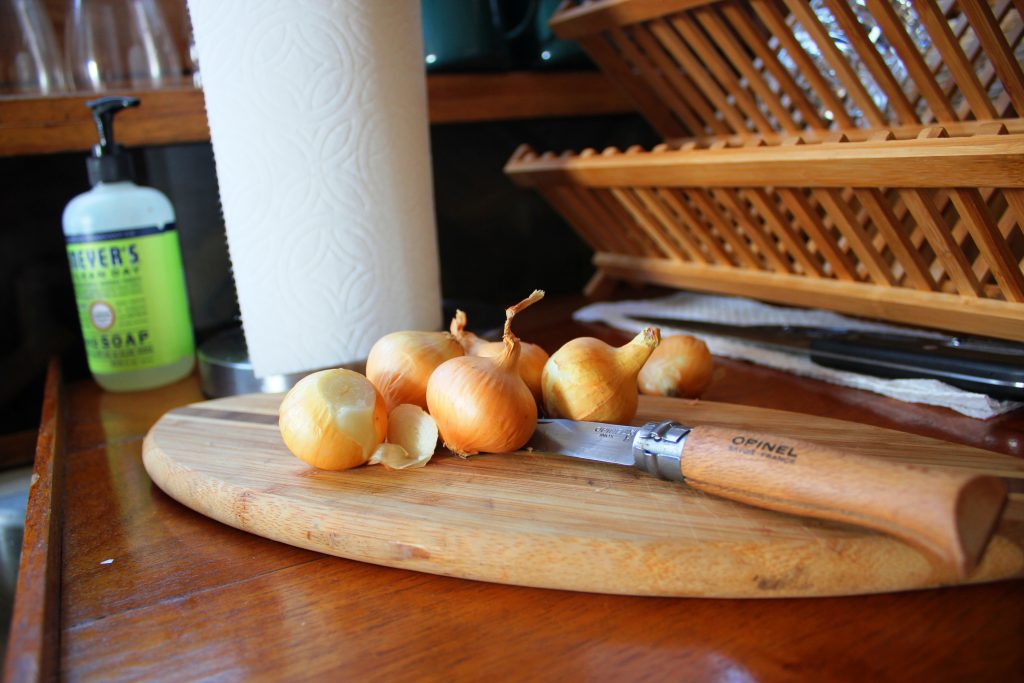 Bob is coming to his boat a few times a week now to cook a meal in preparation for his upcoming cookbook. Bob has a vision. He wants to appeal to those who want to cook on a boat or in small spaces and do so creating good food with a fresh flavor. Bob plans to complete his vision by next summer, and his neighbors' bellies are all benefitting in the meantime.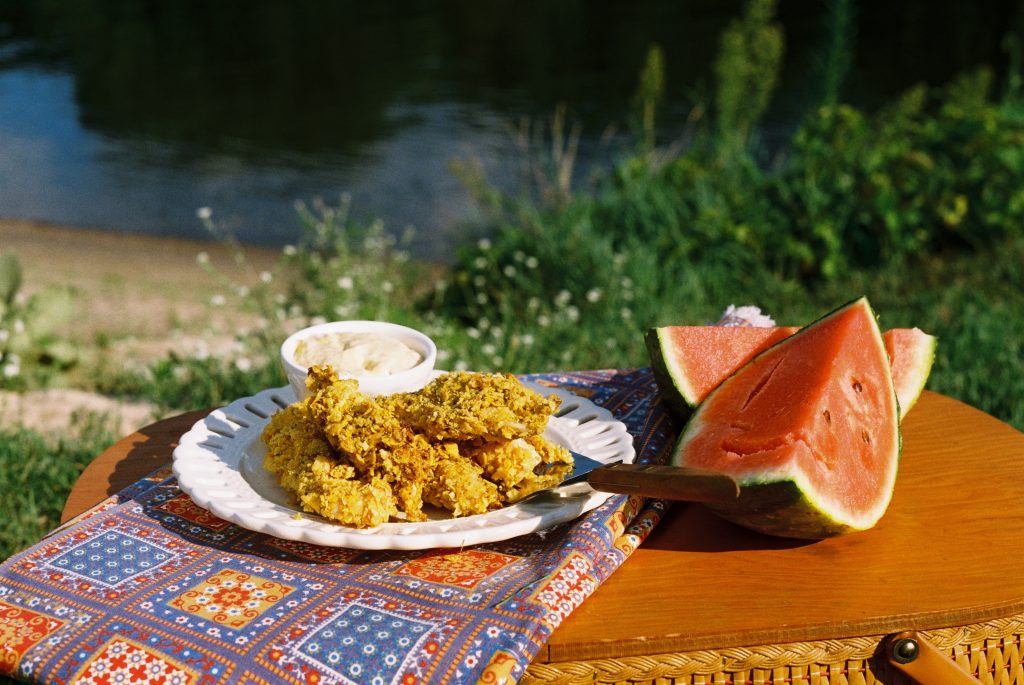 So what about Bob?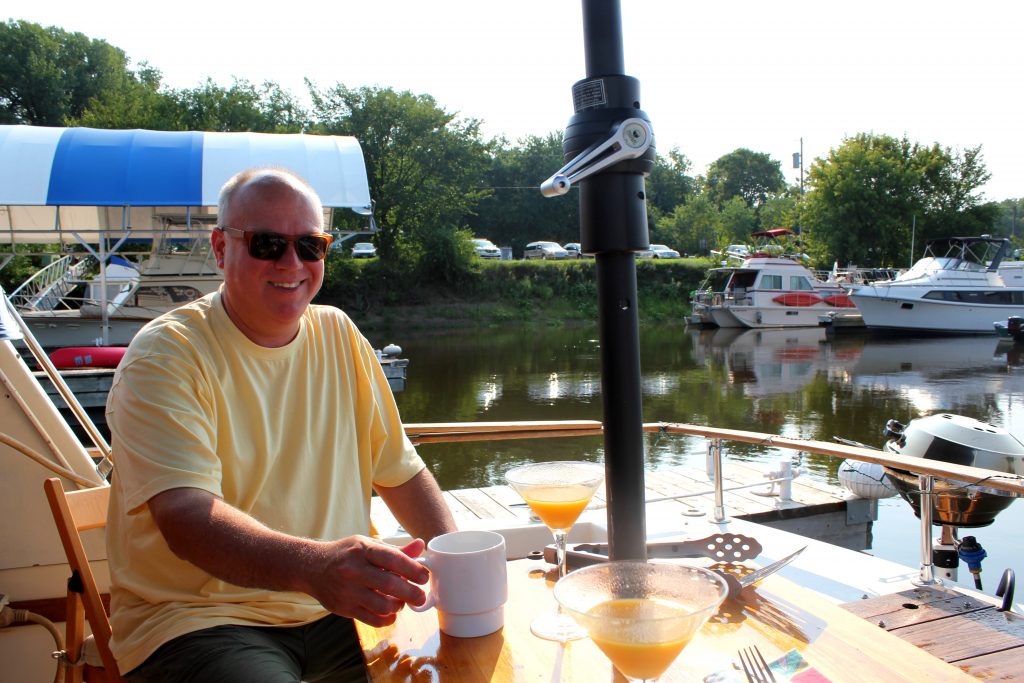 Bob works as the Regional Marketing Director for Bon Appetit Management Company; he has worked there for some time now, but he wasn't always in the food business. Bob first received a degree in Social Work; he did this for seven years but found himself unfulfilled on this path. Bob described going on home visits at a reservation in New Mexico where he would find himself cooking with the kids in the kitchen. He realized his passion lived here- with good people congregated around good food.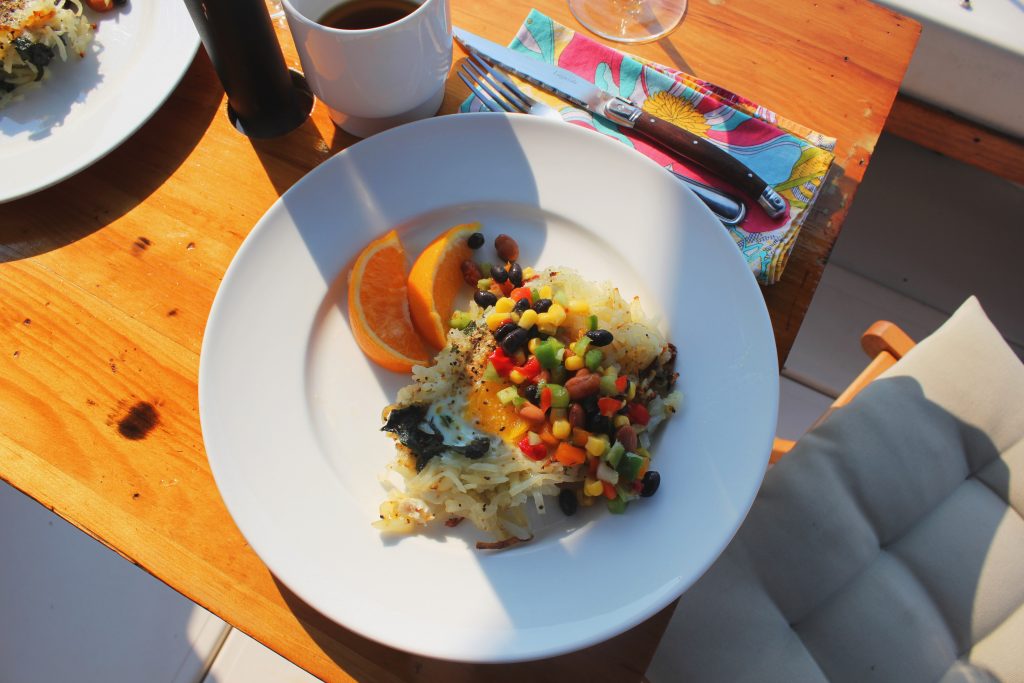 As a child, Bob looked up to his mother who cooked from scratch and has fond memories of cooking with Patty, a family friend who threw "amazing dinner parties". Patty remains an important influence to Bob; she even sang at his and Yader's wedding. At the age of 30, Bob went back to school- to culinary school in St. Louis. He worked closely with a great chef during this time and soon found himself writing a food column called "Dinner and a Movie". He later managed a restaurant and helped this restaurant grow to seven restaurants; this evolution pushed him toward marketing. Now, here we are. Bob is preparing the best breakfast hash of my life while I sip espresso on the stern of his boat soaking up the morning sun. Thank you Patty!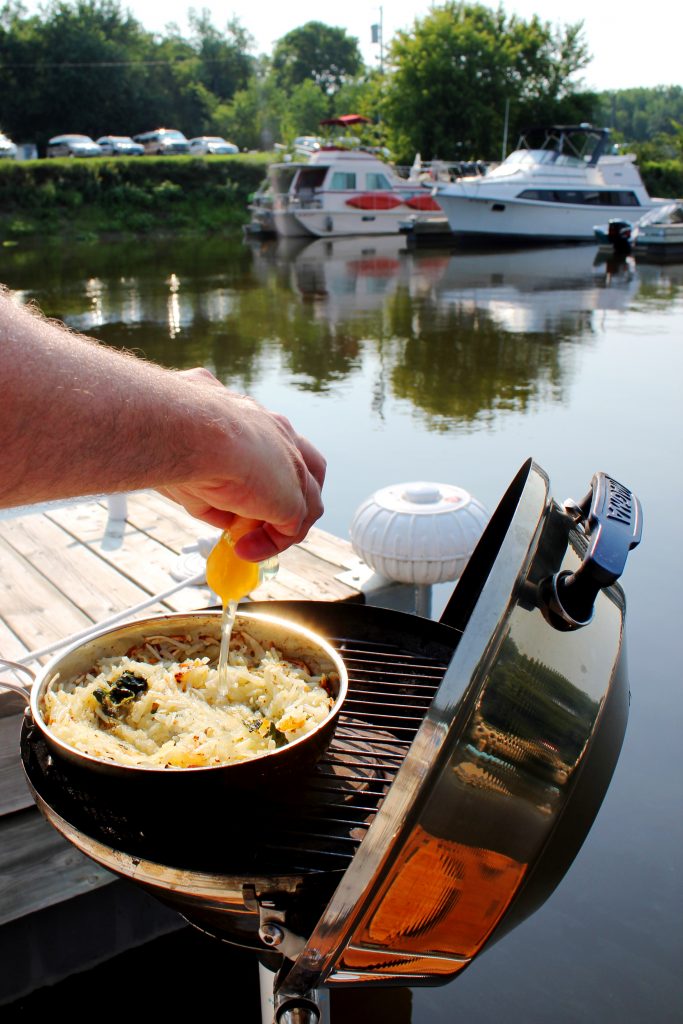 Bob's cookbook will include a pantry list of supplies for the reader to always keep on hand. Each meal will combine what the reader already has with a few additional fresh and local ingredients to make the meal flavorful and unique. He will also have a basic bar section because what is boating without the occasional cocktail?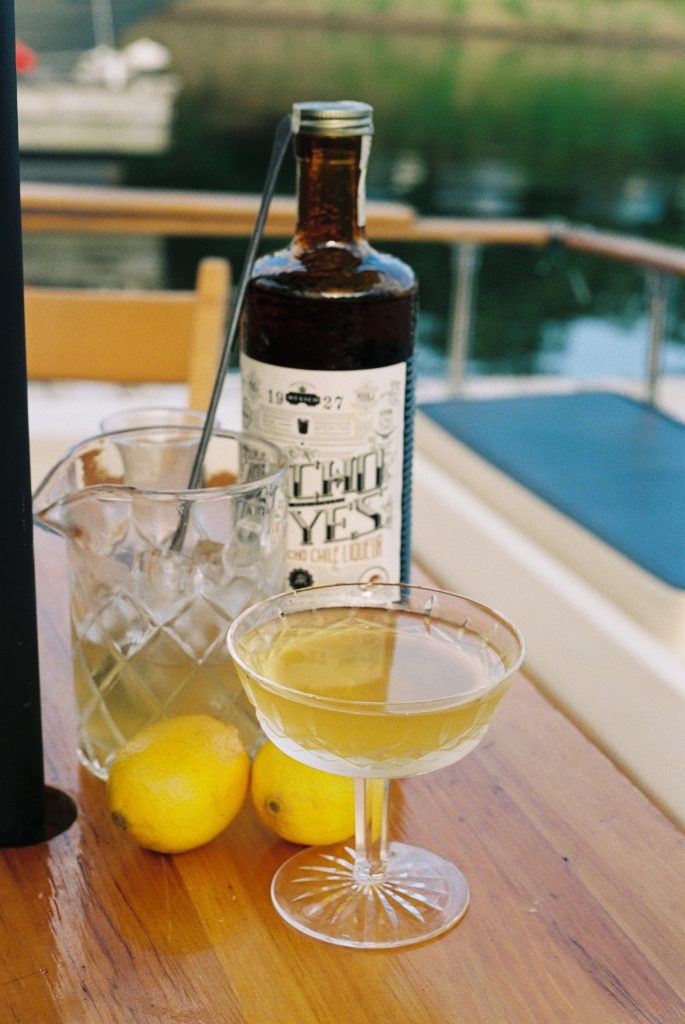 In finding his calling to food, Bob remembers his first "ah-ha" moment. In this moment, Bob is a child at his grandparents' house. Little boy Bob has a handful of freshly picked, warm raspberries; he brings them in the house and puts them on ice cream- the raspberries melt the cool ice cream surrounding them. Bob tells me that this taste is "that moment that you're always chasing".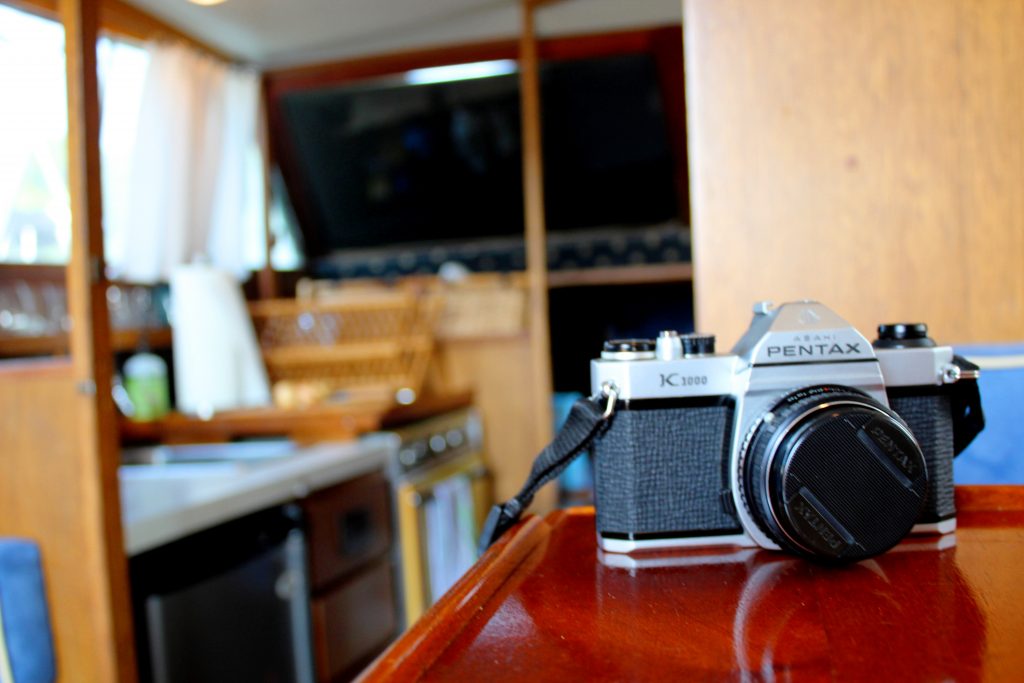 "That moment you're always chasing"… I like this. I reflect on "ah-ha" moments- the simplicities that make life fascinating… the good conversation with a stranger, the cool breeze as you fall asleep, or the warm raspberries on your ice cream. Perhaps we should all chase our "ah-ha" moments. If we live a life or work a career full of "ah-has", I think we're on the right path. I think about my career "ah-has"- seeing my patient walk again after many weeks of therapy, being asked by a family to pray with them before their mother goes to surgery, a burn patient singing to Mariah Carey as we do his full body wound cares, and discussing life goals with a woman exactly my age who has just become paralyzed. These "ah-has" are not always wonderful but they show me life; they have confirmed that I am walking the path I was meant for. Of course, I have personal "ah-has" as well. As a child- dancing in the milk barn or swimming in the cold creek with my cousins. More recently- anchoring our boat out for the first time or sleeping on the plywood floor next to candlelight in our half built cabin.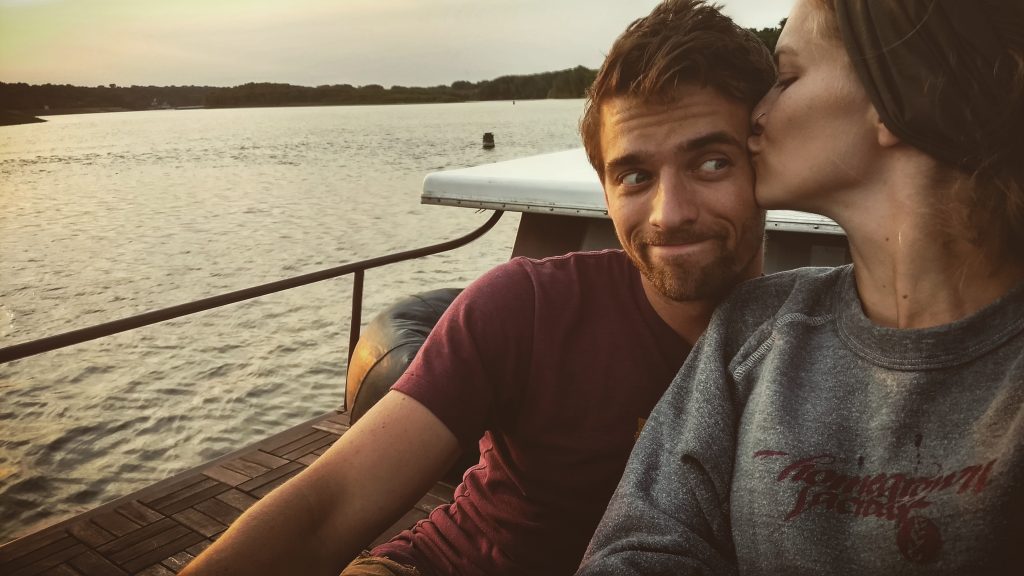 "Ah-has" are simple moments with big impact; we must recognize them as such and use them as a compass. Like warm raspberries on ice cream, it is the simplicities of this life that are utterly fascinating, delicious, and small signs toward a life well lived. Cheers!